What's New in Engine 3.13.0
23 Oct 2018
by
The SteelSeries Engine Team
TIDAL Engine App for OLEDs
Any SteelSeries device with an OLED display can now display track info for any music playing through the TIDAL desktop app!
We recently partnered with music streaming service TIDAL to show off the Hi-Res audio capabilities of our GameDAC, and we wanted a deeper integration with their service and our devices. Give it a shot and let us know what you think. Don't have a TIDAL subscription? Try it for free.
If you have Engine installed, you'll be notified to update. If not, download it here!
New firmware
GameDAC
After updating, lighting from any GameSense app should work correctly on a connected Arctis 5
Bug fixes
Upgrades to Headphone:X v2 from v1 should be smoother now
Fixed a crash when setting the HP Omen keyboard region to UK
Quick look at TIDAL for OLEDs
We've massively simplified the GameSense UI for OLEDs. Now you just choose the info your OLED screen will show: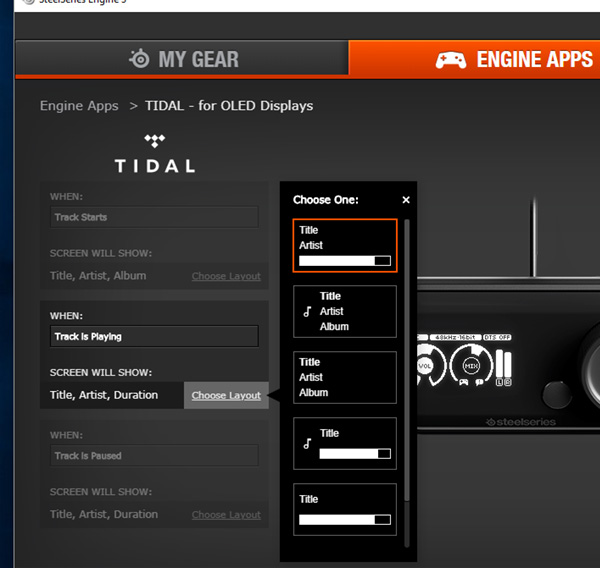 Some track info on a GameDAC: